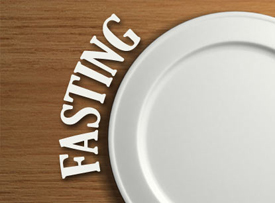 Berpuasa tak hanya menambah kadar keimanan. Tapi juga memberi efek sehat yang luarbiasa. Inilah lima diantaranya.
Saat puasa, tubuh membongkar cadangan glikogen yang tersimpan di hati dan bawah kulit untuk menambah tenaga. Menurut Prof Mohammad Yogiantoro SpPD, Konsultan Ginjal Hipertens, kondisi inilah yang dapat membantu anda mengurangi jaringan lemak pemicu kolesterol.
Saat puasa, tubuh mengalami peningkatan Foxa2. Menurut Buku Regulation of adaptive behaviour during fasting by hypothalamic Foxa2 yang diterbitkan Nature, Foxa2 merupakan pemecah lemak, pemecah gula, dan pemberi stimulus pada otak agar tetap semangat beraktivitas
Saat puasa, kadar adenosine monophosphate-activated protein kinase (AMPK) yang berfungsi ''mengolah'' asam lemak. Menurut American Academy of Neurology seperti dikutip dari Science Daily, AMPK berguna menjaga tubuh anda tetap ideal
Saat puasa, energi didapat dari protein yang tersimpan di otot. Protein ini akan mengalami proses glukoneogenesis sebagai penyedia glukosa. Mengutip Regulation of Gluconeogenesis yang ditulis  Krüppel-like Factor 15, gula yang dihasilkan dari proses ini yang digunakan sebagai makanan otak
Saat puasa, menurut American Academy of Neurology risiko penyakit saraf berbahaya bernama Huntington ikut menurun.
Source : sheradiofm.com